7 Best Gifts for the Man Who Loves Whiskey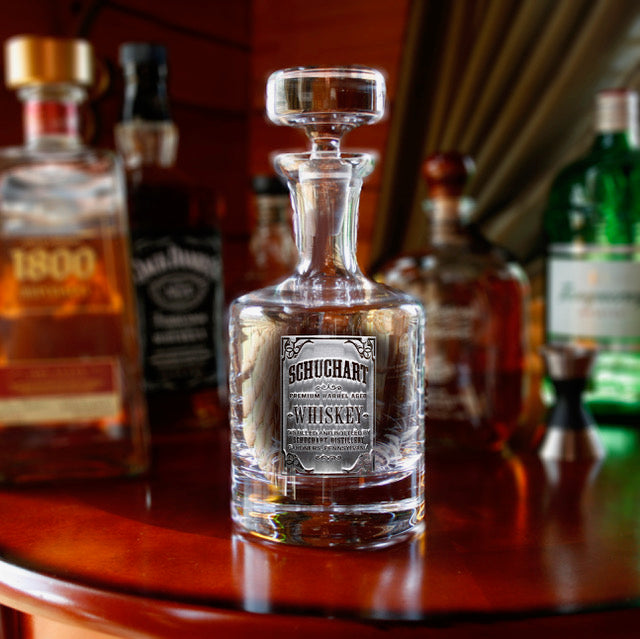 The holidays are here, and you might still be looking for a whiskey-related gift for the man in your life who is fond of bourbon, rye, Canadian, Japanese, Scotch, or other whiskies. There are plenty of items to choose from, such as custom whiskey glasses, ice molds, a smoking box, or books to make him better at crafting the perfect cocktail. Here are some ideas.
Custom Whiskey Glasses
One of the best gift ideas is a set of custom whiskey glasses. You can customize them with his name, initials, or a custom image. For genuinely unique glasses, find a brand that uses deep engraving to give depth and shadow to the glass. Otherwise, go with a UV laser instead of CO2, as the result is crisper. Custom whiskey glasses will make his daily sippers feel like they came from the top shelf.
Glencairn Glasses
There is a specific type of glass that distilleries use that helps channel the aroma of the whiskey. It's perfect for tasting whiskey neat or with a few drops of water, letting him savor the whiskey. This is the Glencairn glass, a favorite among connoisseurs because they are meant for tasting whiskey rather than drinking it. Your whiskey lover can impress his guests by serving a finger of whiskey in a Glencairn.
Personalized Whiskey Decanter
What is more elegant than using a personalized whiskey decanter to pour into custom whiskey glasses? A whiskey decanter is an elegant way to store and show off whiskey. It's perfect for a home bar or bar cart. Whiskey doesn't open up or need to "breathe" like wine in a decanter, so it's pure elegance and decoration for a home bar.
Infusion Kits
An infusion kit usually comes with wooden staves and a bottle. Your whiskey lover can put a clear whiskey in and infuse it with the wooden stave over a couple of weeks. It's a fun activity that produces an interesting whiskey, and he can see how the aging process changes whiskey from the comfort of his own home.
A Smoking Box
Smoking boxes are an excellent way of adding smoky flavors to whiskey. They require a smoking gun, though many boxes are sold alongside them. Add in wood shavings, let a glass of whiskey infuse in the smoking box, open it, and your whiskey lover can enjoy a new twist on their favorite whiskey.
Ice Molds
Regular ice melts quickly and dilutes whiskey. An excellent gift is a set of ice molds. These come in various shapes, the most common being spheres and cubes, but they are all much larger than the typical ice cube. This means they melt slower, resulting in less dilution.
Liquid Intelligence
Dave Arnold won the James Beard award for Liquid Intelligence, and it's easy to see why. In the book, he breaks down the science behind cocktails. There's an entire chapter dedicated to ice and how it dilutes. It's perfect for anyone who wants to up their whiskey cocktail game.
About Crystal Imagery
Eric Schuchart started the hobby of making personalized engraved glasses for his friends and family in 2001. The glasses were met with rave reviews. In 2013, Schuchart decided to turn the passion project into a full-time job, so Sherri Blum, a noted interior designer for celebrities, joined him, and Crystal Imagery was born. Now, Crystal Imagery utilizes two etching techniques. The first is a deep etching technique that produces a depth and shadow in the glass that traditional rotary surface etching methods can't match. The second is a UV laser etching, which offers a clear, crisp etching that cuts the surface, unlike CO2 lasers. Using these two innovative methods, Crystal Imagery offers personalized whiskey glasses, customized beer glasses, flasks, crystal ice buckets, wine glasses, and various other glassware options to drink lovers worldwide.
Give the gift of personalized glassware with help from Crystal Imagery at crystalimagery.com