7 Best Flavored Whiskies for the Holidays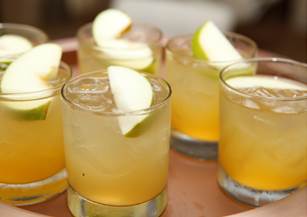 The holidays might mean you add a little whiskey to your morning coffee. It might mean making a cocktail to get into the holiday spirit. But what about flavored whiskies? They are often looked down on, but if you are a student of whiskey, you might already know that flavored whiskies are excellent ways to add nuance and flavor to your fall and winter drinks. Here are a few worth pouring into your personalized whiskey glasses, either by themselves or as part of a cocktail.
Bird Dog Maple
Maple-flavored whiskies are some of the most popular types of flavored whiskies. They have graced many a personalized whiskey decanter. The buttery flavor profile of Bird Dog Maple comes from using real maple syrup. It's perfect for creating a Boulevardier, which is essentially a Negroni using whiskey instead of gin. The maple flavor goes especially well with fall but still carries into the winter, making it an ideal liquor for the cold months.
Knob Creek Smoked Maple
Knob Creek, owned by Jim Beam, also makes a smoked maple whiskey. This 90-proof bourbon offers both maple and smoke notes. Booker Noe, the founder of Knob Creek, inspired the flavored bourbon thanks to toting his smoked hams wherever he went and his love of maple syrup.
Dewar's Highlander Honey
You can take a cue from the Scots during the cold months and add honey to your whiskey. Drambuie originally combined local honey, whiskey, herbs, and spices. Centuries after Drambuie was first made, Dewar's introduced Highlander Honey, their take on honey and whiskey. It offers a hint of peach, making it a bright flavor perfect for adding to cola or ginger beer or just over ice.
Kings County Distillery Chocolate
Want to add the taste of chocolate to make a holiday Manhattan? You need Kings County Distillery Chocolate. It's the distillery's spicy moonshine combined with cocoa husks. The cocoa husks are sourced from the Mast Brother Chocolate Factory, hailing from the same New York borough as the distillery. It's a rich whiskey that offers the flavor of dark chocolate.
Red Stag Hardcore Cider
Cider is perfect for winter. Red Stag, owned by Jim Beam, started with a black cherry-flavored whiskey in 2009 and now offers this cider-inspired whiskey. Red Stag Hardcore Cider has subtle spice and crisp fruit notes. Have it with an apple pie to pair the flavors together.
Spicebox Pumpkin Spiced Rye Whiskey
Only made during the holiday season, Spicebox makes their Pumpkin Spiced Rye with pumpkin, vanilla, and nutmeg. It's only made in small batches, so if you want to add pumpkin spice whiskey to your holidays, pick it up when you see it.
Whiskey Girl Butterscotch
Butterscotch is a flavor that represents the cold months for many. Whiskey Girl Butterscotch is created with American-grown corn, barley, and red wheat. After natural flavors are added, it is twice-distilled and bottled in South Carolina by Dark Corner Distillery. Spike your coffee and sit by the fire with your festive whiskey as the snow gently falls.
About Crystal Imagery
Eric Schuchart started the hobby of making personalized engraved glasses for his friends and family in 2001. The glasses were met with rave reviews. In 2013, Schuchart decided to turn the passion project into a full-time job, so Sherri Blum, a noted interior designer for celebrities, joined him, and Crystal Imagery was born. Now, Crystal Imagery utilizes two etching techniques. The first is a deep etching technique that produces a depth and shadow in the glass that traditional rotary surface etching methods can't match. The second is a UV laser etching, which offers a clear, crisp etching that cuts the surface, unlike CO2 lasers. Using these two innovative methods, Crystal Imagery offers personalized whiskey glasses, customized beer glasses, flasks, crystal ice buckets, wine glasses, and various other glassware options to drink lovers worldwide.
Get the glassware you need for the cold months at
crystalimagery.com