6 Celebrity Whiskies Worth Trying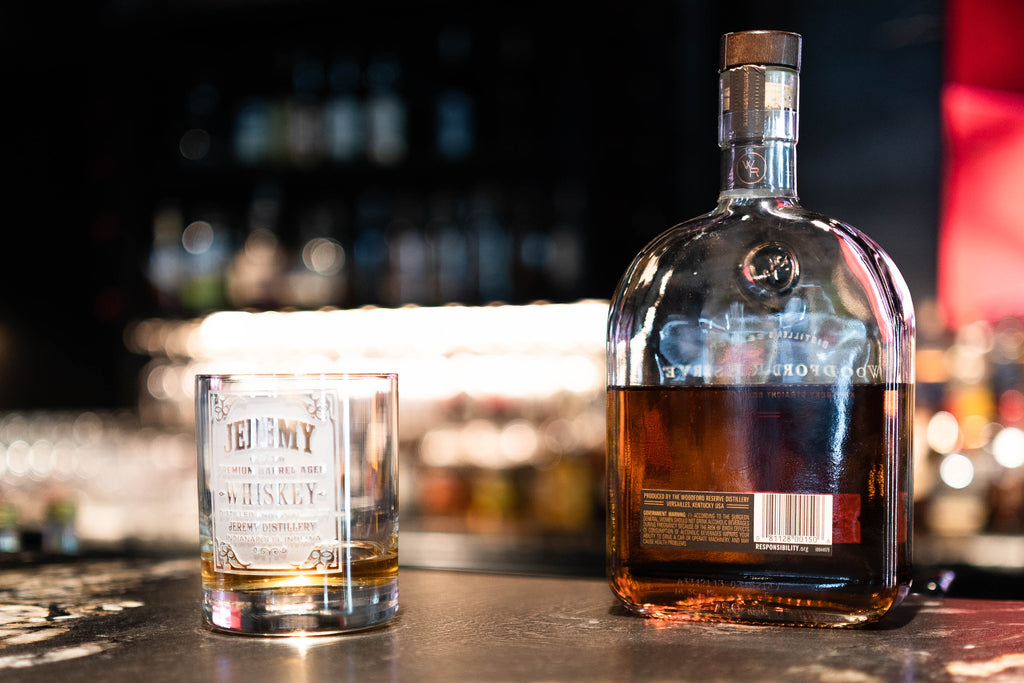 There are plenty of celebrities who have endorsed or own whiskey labels. Some collaborations stand out, and some fall flat. Which are worth pouring into your personalized whiskey glasses? This list of whiskies highlights some of the more highly regarded options among celebrity-backed whiskies. Here are six options worth trying.
Sweetens Cove Bourbon — Peyton Manning and Andy Roddick
Many celebrity-backed spirits leave something to be desired. They may be bottled at meager proofs or have sweeteners and flavorings added to appeal to those who aren't typical whiskey drinkers. Sweetens Cove, from famous quarterback Peyton Manning and tennis star Andy Roddick, is for true whiskey connoisseurs. While some regard it as overpriced, this limited offering has three cask-strength Tennessee bourbons blended by bourbon industry star Marianne Eaves.
Lagavulin Offerman Edition: Guinness Cask Finish — Nick Offerman
If there is any celebrity who knows whiskey, it's Nick Offerman. As the second collaboration between the Parks and Recreation actor and Lagavulin, this limited edition 11-year single malt was finished for four months in barrels that previously held Guinness. It will likely be hard to find a celebrity whiskey option more worthy of pouring into your personalized whiskey decanter. It has the charred wood and intense peat notes of Lagavulin combined with hints of sweet caramel, dark chocolate, and roasted coffee from the Guinness casks.
Wild Turkey Longbranch Bourbon — Matthew McConaughey
The heritage brand may have faced ridicule when McConaughey was brought on as "creative director," but the actor loved the brand enough to create his own product under the Wild Turkey umbrella. It pays tribute to both Kentucky and McConaughey's Texas roots. It's a Tennessee-style whiskey filtered with mesquite charcoal and proves that bringing on this celebrity brand ambassador was worth it. 
BLACKENED American Whiskey — Metallica
It might sound like a gimmick, but Metallica BLACKENED American Whiskey employs Rob Dietrich, master distiller and former blender of Stranahan's. The brand claims the whiskey is aged with a BLACK NOISE sonic-enhancing process. In other words, Metallica's music is blasted with rock tunes in the barrels. Despite the gimmick, the whiskey is actually pretty good. It's packed with flavor and tastes sweet but not overly so. On the palate, you'll find blackberry, dark raspberry, apricot, and apple. The flavor concentration is impressive for a 90-proof whiskey, giving an intensity rarely seen at that ABV.
Heaven's Door Whiskey — Bob Dylan
Heaven's Door whiskey is generally regarded as one of the better-tasting celebrity spirits. You can choose from bourbon, rye, Tennessee whiskey, or a Master Blender's release. Interestingly, Dylan rarely acknowledges the brand. It started when Marc Bushala, founder of Angel's Envy Bourbon, and Ryan Perry, a Diageo whiskey developer, discovered Dylan had trademarked the term "bootleg whiskey." The pair approached Dylan for a collaboration, and three years later, Dylan agreed.
Brother's Bond Bourbon — Ian Somerhalder and Paul Wesley
Actors Ian Somerhalder and Paul Wesley became friends while drinking bourbon. Their brotherhood is reflected in Brother's Bond, an interesting bourbon made from a corn mix that is anything but typical. Instead of the usual 51% corn in the mash, Brother's Bond is 65% corn. The rye content is also increased to 22%. The high-rye, four-grain bourbon is well-spiced and offers notes reminiscent of banana bread.
About Crystal Imagery
In 2001, Eric Schuchart started a fun side project of crafting personalized engraved glasses. While he started by making them for his friends and family, they loved his glassware gifts so much that his new hobby became the first step in creating Crystal Imagery. Fast-forward to 2013 when Sherri Blum, a noted interior designer to the stars, joined Eric to officially launch Crystal Imagery together. Crystal Imagery produces a depth and shadow in their glasses by using a deep etching technique and their new custom laser technology. Rotary surface etching simply can't match the results you find with Crystal Imagery products. Crystal Imagery offers personalized whiskey glasses, decanters, customized beer glasses, crystal ice buckets, flasks, travel coffee tumblers, and many other drinkware options. No matter what you want to add to your drinkware collection, Crystal Imagery has you covered.
Find personalized glassware to pour your favorite celebrity whiskey into at crystalimagery.com