Top 4 Christmas Gifts for Beer Lovers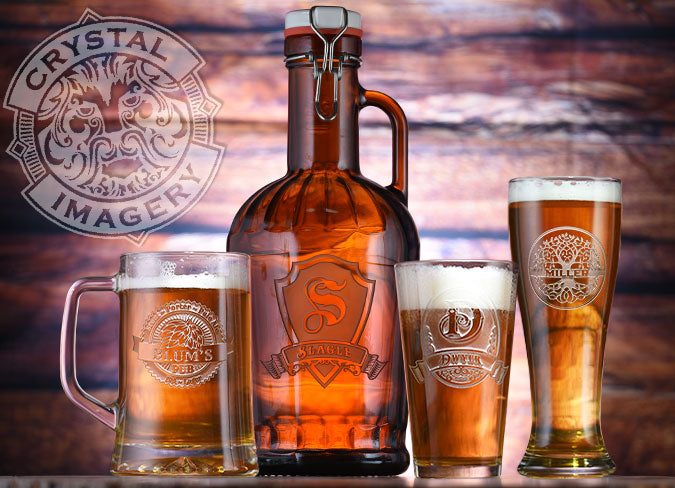 When it comes to beer lovers, it seems everyone has a preference as to what kind of barware they prefer. At Crystal Imagery, we offer a wide variety of top beer gifts and beer glasses to suit every beer lover's style!
Beer Mug
The most traditional vessel for enjoying your beer is the glass beer mug.  A beer mug can range in size from 12 oz to 25 oz typically and beer drinkers have their preference! Some prefer the smaller beer mug due to the fact that the larger ones become quite heavy and cumbersome. Some will even point out that in order to keep your drink cold and fresh, use the smaller glass to keep your beer from getting warm before you finish. Yet others will grab that big heavy mug, more reminiscent of an old world stein, so they can sit down and enjoy a well-deserved brewski without having to return to the bar too quickly.
Beer Growler
The issue of beer mug size doesn't need to be as much of an issue if you have a full beer growler at your fingertips for quick refills. Many home brewers or craft beer lovers have a collection of growlers from their favorite breweries or personalized growlers on hand to bottle their home brews. Having a beer growler allows you to take the jug to your favorite brewery and get refills to take home with you. Then you can refill your beer mug as often as you like with the best beers in town!
At Crystal Imagery, we offer two styles and sizes of beer growlers. One is the more commonly seen screw top growler which holds 64 ounces. Another is the gorgeous German Grolsch Growler with a flip top that seals nicely and holds a whopping 2 liters!
Pint Glass
Another very traditional and versatile glass for enjoying your brew is the most popular glass for pubs, the pint glass. This beer glass can also double as a water glass, cocktail glass or iced tea glass. It is sturdy and fits well in the hand. While this glass is very simple in style, when you add a deeply carved engraved monogram to the glass, it becomes quite a showstopper and is a top gift for beer lovers by far!
Pilsner Glass
A more elegant beer glass is the sexy pilsner glass. This is a curvy and more sophisticated style of glass and has become a popular style for gift giving occasions due to its more unique shape and size.  At Crystal Imagery, we have many gorgeous monograms available for men and women who truly enjoy their beer.
So when it comes to Christmas gifts for beer lovers or other popular gift-giving occasions such as birthdays, anniversaries, retirements and weddings, consider some of the best gifts for beer lovers to add to your loved ones' barware collection. And grab some for yourself while you're at it. Cheers!