The Best Personalized Whiskey Decanter and Other Glassware Gifts for Military Members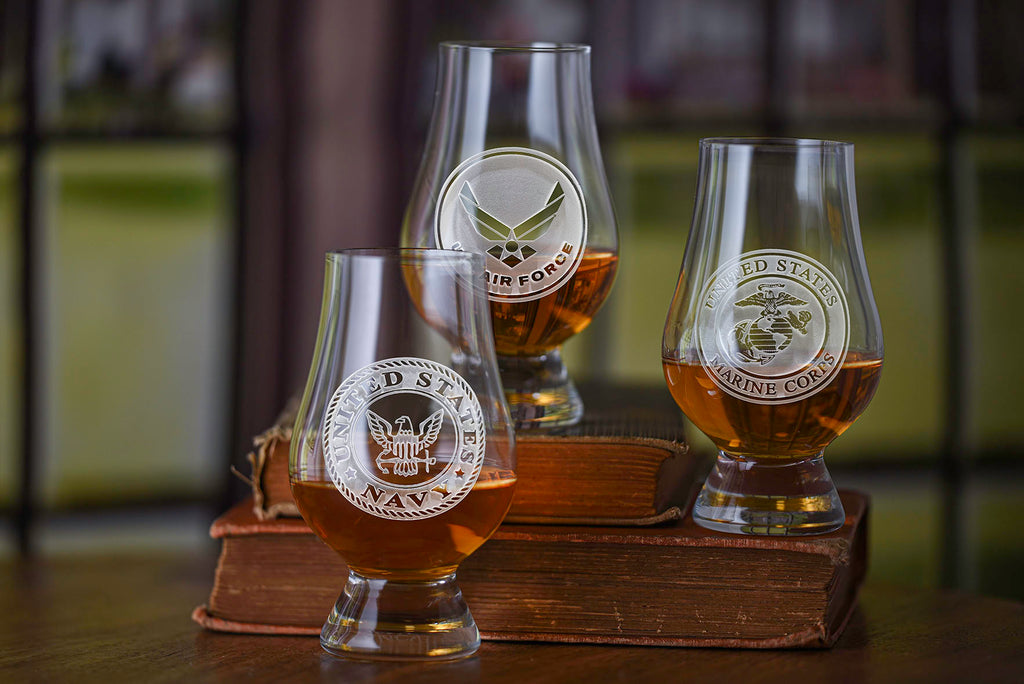 Do you need a gift for a friend or family member who takes pride in being an active part of the military? Do they love to come home to a beer or cocktail? Custom glassware might be perfect. From a personalized whiskey decanter to customized beer glasses, there are plenty of options. Here are a few choices with a deeply engraved logo of their armed forces branch to consider getting.
Personalized Whiskey Decanter
Your military member needs somewhere to hold their whiskey while they are on duty. Unlike wine, whiskey does not oxidize. It doesn't "open up" the same way wine does, so a personalized whiskey decanter with the logo of the US Marines is purely decorative. It's a great way to show off the color of a favorite whiskey before pouring it for friends and family at a weekend get-together.
Customized Whiskey Glasses
After a long day on duty, your friend or loved one might want to go home and have a glass of whiskey. The classic rocks glass is perfect for either whiskey neat or for a cocktail like the Old Fashioned. Customized whiskey glasses with the logo of their branch, such as the Army, are perfect for winding down after a long day. They are versatile enough to hold many whiskey drinks. What will they pour into their whiskey glasses from their personalized whiskey decanter?
Personalized Glencairn Glasses
Glencairn glasses are similar to whiskey glasses. They are made for sipping whiskey neat or whiskey with a few drops of water. The glass is shaped similarly to a tulip or copita glass. They are made for whiskey connoisseurs. Having the Navy logo on them will help instill a sense of personal pride while enjoying a scotch or bourbon in the Glencairn glass. 
Customized Beer Glasses
Adding customized beer glasses to their home bar is the perfect way to help welcome them home. Your gift could be a pub pint glass, pilsner glass, or mug depending on what kind of beer they prefer. It will help elevate the drinking experience. No matter if it's a local craft brew or something more affordable, they are likely sharing with their squadmates when off duty. Having a set for them to use for toasting makes an excellent gift.
Armed Forces Beer Growler
If your gift receiver loves local beer, give them a growler with their branch's insignia on it. It's a great way to show pride when filling up at a growler station in a grocery store or local brewery. It might prove something that helps strike up a conversation while they are filling up on their favorite brew. Or it could just show guests their pride as a member of the armed services. Like the personalized whiskey decanter, it's a great way to store their favorite beer.
Insignia-Engraved Whiskey Flask
Transporting their favorite whiskey to a party or event can be tricky without a flask. You can gift them a flask with the Marines insignia to show off their service. It's perfect for taking a favorite whiskey or cocktail to a party or event, all while subtly showing their service.
Custom Coffee Tumbler
Whether it's coffee or coffee with something harder in it, a custom tumbler makes it easy to carry around. They are much harder to break than a flask, though you can't see what's inside. They can be used over and over, proudly showing off you are part of the Air Force on your days off when you are out and about.
About Crystal Imagery
Eric Schuchart planted the seeds of Crystal Imagery when he started a hobby in 2001. The side project involved making personalized engraved glasses for his family and friends. The glasses received rave reviews. Sherri Blum, a noted interior designer for celebrities, joined Eric in 2013, and Crystal Imagery blossomed. Crystal Imagery uses a deep carving technique to produce a depth and shadow that traditional rotary surface etching methods just can't match. Crystal Imagery offers personalized whiskey glasses, customized beer glasses, decanters, crystal ice buckets, growlers, and several other glassware options. Add a touch of luxury to your home bar with Crystal Imagery's deeply engraved, customized glassware.
Find custom glassware for your servicemember at
crystalimagery.com