The Best Personalized Barware Gifts to Give to Your Groomsmen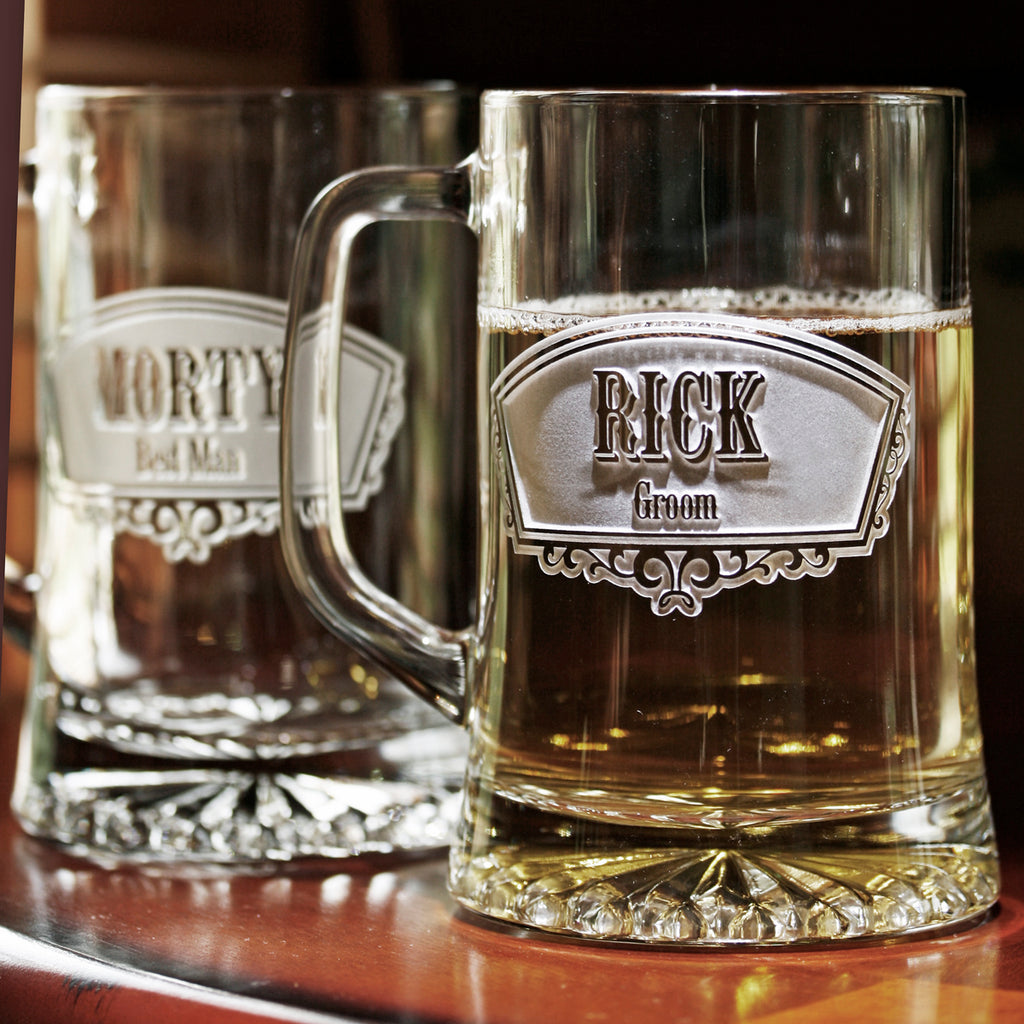 When it comes time as a groom to thank your groomsmen for being part of your wedding party, do it with a personalized gift. It can be customized to the individual or commemorate the wedding, but a personalized gift will always wow groomsmen. Giving a gift worthy of the men standing beside you on your wedding day can be a challenge, however. So, from custom whiskey glasses to shot glasses, here are some personalized barware options up to the challenge that are practically guaranteed to impress your wedding party. Be sure to get a personalization that can create a deep 3D engraving, carving away a background to give depth and shadow to the logo, monogram, name, or other customization on the barware.
Whiskey Glasses for Sipping Scotch, Bourbon, or Rye
If your groomsmen are bourbon, rye, or scotch lovers, whiskey glasses etched with a custom logo or wedding commemoration are perfect groomsmen gifts. From the classic Old Fashioned or lowball glass perfect for sipping whiskey to a Glencairn glass that will help you get a whiff of a smokey scotch, these glasses are a must-have for those who love whiskey.
Flasks for Storing Drinks
A personalized flask given before a wedding can even be used at the wedding. Choose a high-quality flask with a leak-proof rubber stopper, and your groomsmen can use it to store anything from whiskey to gin, vodka to rum. It's perfect for the groomsman that is a tailgating die-hard or a liquor enthusiast, and providing them with an heirloom-quality flask will put you in the record books of gift-givers.
Shot Glasses for Parties
Why not go for engraved glasses of a smaller variety? Customized shot glasses are perfect for parties or getting a shot or two in before the wedding. Get them engraved with a monogram or a wedding party logo with your name, and they'll always remember you when using these party favors.
Beer Mugs for Kicking Back
If you want your groomsmen to enjoy themselves and kick back after a long day at work, choose a custom engraved beer mug. One with your last name and their title, such as best man or groomsmen, and a skull-and-bones logo or a bow tie logo will remind them of the fun of the bachelor party and the wedding. They will be able to enjoy a cold one, whether it's a local craft brew or their favorite big name, in a unique mug for years to come.
A Beer Growler for Refilling
Do they need a refill on beer to go with the above mug? Get them a custom beer growler. The German-style flip-top growler is ideal for homebrewers, whether it's their favorite beverage, kombucha, or beer. Showing up to the craft brewery growler taps with an engraved grower is a statement that they take their brews seriously.
Get custom engraved glasses to celebrate every occasion big and small at crystalimagery.com