The 6 Best Books for a Whiskey Lover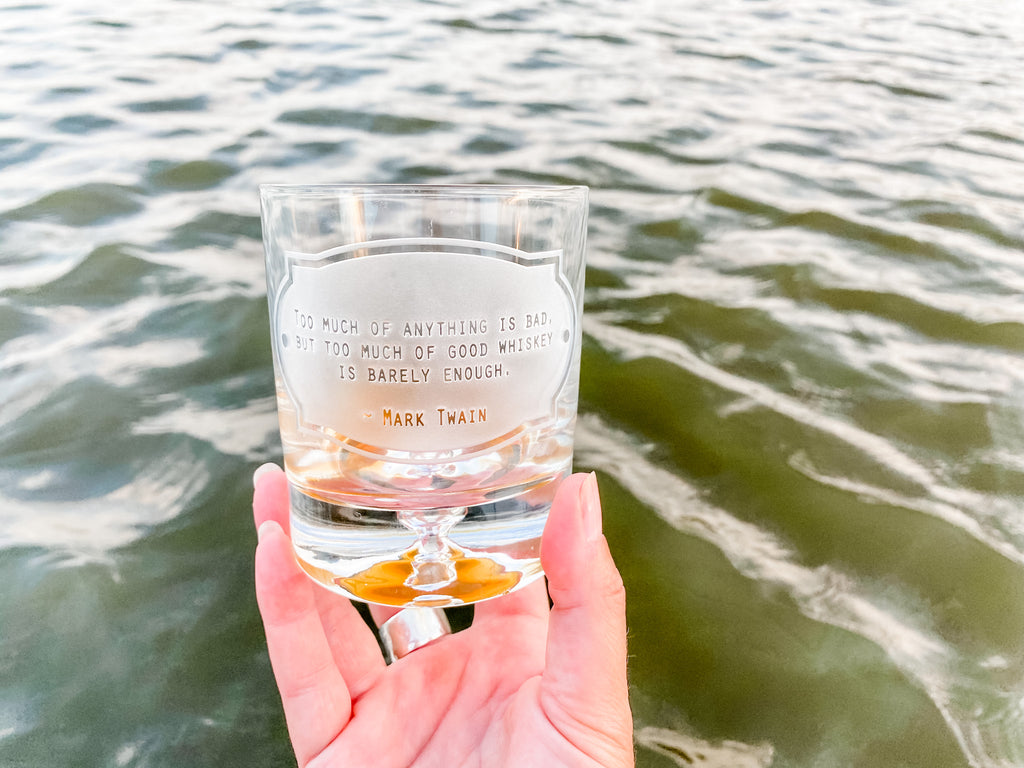 The cold months have set in. You are sitting by the fire. You have poured your favorite whiskey into your personalized whiskey glasses. As you swirl the whiskey in your luxurious etched glass, you realize you are missing something: a good book. With a glass of whiskey in one hand and one of these books in the other, you can relax on a cold evening. Here are some whiskey-related books to get you started.
Whiskey Master Class by Lew Bryson
Lew Bryson is concise in his writing, giving a clear overview of everything essential to whiskey. From production to tasting, styles of whiskey to materials used in the distillation process, Bryson makes dense topics easy to understand and interesting. If you want to understand what makes each whiskey unique, this is the book for you.
The North American Whiskey Guide From Behind the Bar by Chad Berkey
Sometimes you want to branch out and pour a new whiskey into your glasses etched with your monogram. But which whiskey is worthy of your high-quality glasses? Chad Berkey, manager of San Diego's The Aero Club, collected reviews of 250 whiskeys from bartenders around the country. Packed with historical information, recipes, and his own cocktail riffs, this book is perfect for finding a new whiskey to add to your collection and enjoy at your fireplace in a custom glass for ambiance. There are even cigar pairings included.
The Complete Whiskey Course by Robin Robinson
Though best for beginners, Robin Robinson's book has information on everything from American, Irish, and Canadian whiskies to notable distillers and recommended bottles. Each of the 10 "courses" covers a different topic, from whiskey in general to a specific region. Robinson helps small-production distilleries start up, teaches whiskey classes, and does a whiskey history tour to support his stand-up comedy, making this book fun and interesting.
Whiskey Bible by Jim Murray
Industry insider Jim Murray's annual Whiskey Bible is considered a gold standard in whiskey literature. With over a thousand ratings, Murray writes in a non-pretentious style that easily conveys the reviews. You'll learn about the nose, taste, finish, and balance of each whiskey. While Murray uses a team to help him, he personally tries each whiskey, no matter how obscure.
Hacking Whiskey by Aaron Goldfarb
Have you ever added foie gras to the whiskey your custom engraved glasses to create the most elegant, extravagant cocktail? Have you used fat washing or put your engraved glasses in a smoking chamber? Aaron Goldfarb's book is a fresh take on drinking whiskey, covering the tools you need and recipes to take your whiskey cocktails to a whole new level. Read this book if you want to blend mediocre whiskies into something worthy of pouring into your engraved glasses.
Liquid Intelligence by Dave Arnold
A must in any home bar, Dave Arnold's Liquid Intelligence is another way to up your cocktail game. While not whiskey-specific, Arnold looks at the science behind making cocktails and drinking liquor. From how ice should be used to the difference between shaken and stirred, how sugars affect a drink, and the acidity of a cocktail are all examined. If you want to pour the perfect cocktail into your custom whiskey glasses, Arnold's James Beard Award-winning book is ready to help you understand the science behind what you are doing.
About Crystal Imagery
It all started as a hobby. Eric Schuchart started making custom engraved glasses for fun in 2000. Friends and family loved the results. In 2013, he was joined by noted interior designer to the stars Sherri Blum, and Crystal Imagery came to be. Using a deep-carving technique on the glasses, Crystal Imagery creates a unique effect that gives shadow and depth to the glass that you can feel. It's something typical laser and rotary surface etchings can't match. Crystal Imagery offers personalized whiskey glasses, highball glasses, Nick and Nora glasses, champagne flutes, decanters, flasks, and more glassware. If you want to add a new level of elegance to your home bar, choose personalized glassware from Crystal Imagery.
Get custom glasses to fill with whiskey cocktails from Crystal Imagery at crystalimagery.com
Cheers!