The 5 Holiday Drinks to Help You Get in the Spirit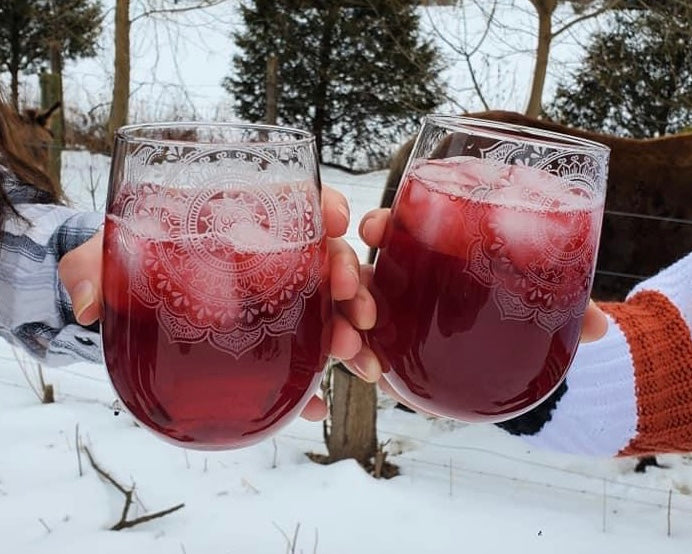 The cold months are here, and the holidays are upon us. Whether you are celebrating the holidays or they have already passed, and you want something to keep the spirit going as you watch the snow gently fall outside, these cocktails are perfect. Get your personalized whiskey glasses ready, pull out the bar tools, make sure you have a fire going, and get ready to make these delicious, luxurious drinks.
The Hot Toddy
The first seasonal drink is likely one that has graced your home at least once before. The Hot Toddy is a cold-season classic, and you probably have all the ingredients already. Bring ⅓ cup of water to a simmer while combining 1 ½ ounces of bourbon, 1 tablespoon of honey, and 2 teaspoons of lemon juice in a mug. Pour the hot water, stir to combine, and garnish with a cinnamon stick and lemon slice. The lemon and honey help bring out all of the bourbon's notes.
Wassail
Want something traditional but not a Hot Toddy? Try the wassail, a common drink in northern midwest states. It was an Old English tradition with pagan roots that celebrated the fall harvest. In a medium saucepan, combine 4 cups of apple cider, ½ nub of fresh ginger that has been grated or finely minced, 2 sliced lemons, a cinnamon stick, 3 star anise, and ¼ ounce of vanilla extract. Simmer for at least 30 minutes but preferably more than an hour. Measure 1 ½ ounces of bourbon into a mug. Pour in the hot spiced cider.
Maple Syrup Old Fashioned
The chances are good that plenty of old fashioneds have graced your custom engraved glasses. If you want to add something to elevate your old fashioned cocktails for the cold months to match the luxuriousness of your custom glasses, try replacing simple syrup with maple syrup. Use 2 ounces of bourbon, ¼ ounce of maple syrup, a couple dashes of bitters, ice, and a lemon or orange twist. Want to kick it up another notch? Add a few drops of vanilla extract.
Santa's Nightcap
Created by Daniel Jones of the Powder Room in Los Angeles, Santa's Nightcap combines sweet coffee notes with rich, dried fruits. Add in the subtle oak notes of The Sexton Single Malt Whiskey, and you have a new holiday staple. Melt 2 ounces of white chocolate (Godiva if you want to feel more luxurious), and combine with 1 ounce of The Sexton Single Malt Irish Whiskey in a shaker. Add chocolate syrup and shake vigorously. Hopefully, you have already created Kahlua-infused whip cream that you can add to the top. Garnish with a chocolate peppermint cookie.
Christmas Old Fashioned
Do you want a drink as interesting as your custom whiskey glasses etched with your monogram? Try this new take on the old fashioned. Rim your custom glasses with sugar as you will need to cut the tartness. Plus, it'll give a snowy look to add to your custom logo. Muddle cranberry-infused simple syrup, a couple of dashes of Angostura bitters, and an orange wedge in your glass. Add in 2 ounces of Redemption Rye, which brings honey, maple syrup, and peppery spice notes to the Christmas cocktail. Garnish with sugared cranberries on a pick.
About Crystal Imagery
It started with a hobby. In 2000, Eric Schuchart started a fun side project of making custom engraved glasses as gifts for friends and family. He received rave reviews. Fast forward to 2013 when he teamed with Sherri Blum, a noted interior designer to the stars, to create Crystal Imagery. Crystal Imagery uses a deep-carving technique to create a unique engraving, adding shadow and depth to the engraving that you can feel. It's a result typical laser and rotary surface etchings can't replicate. Crystal Imagery offers personalized whiskey glasses, highball glasses, champagne flutes, Glencairn glasses, Nick and Nora glasses, flasks, and more glassware. If you need to add a touch of elegance to your home bar, choose personalized glassware from Crystal Imagery.
Pour your holiday cocktails into custom whiskey glasses available at crystalimagery.com