Introducing Stolzle Lead-Free Crystal Barware Collection by Crystal Imagery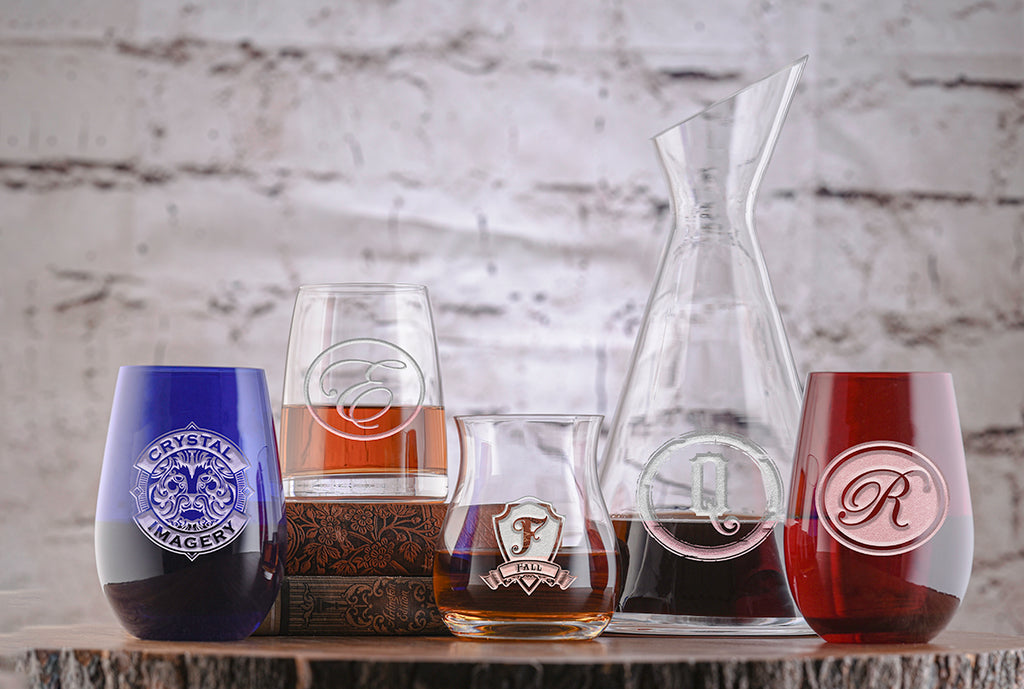 About Stolzle Crystal
Crystal Imagery presents Stolzle, a gorgeous German crystal glassware collection with old-world quality and craftsmanship, yet modern design. Our Stolzle lead-free crystal glasses feature a beautiful pulled stem that is a cohesive part of the glass. Add our deep-etched sand carving method of decorating the glassware, and you've got a gorgeous crystal gift that will make jaws drop.

Stolzle glasses are the perfect contribution to the culture of drinking wine or having a cocktail. The Stolzle brand of lead free crystalline glass is one of the few glass companies who have perfected the process to produce a one piece stem and bowl, or a pulled stem as we call it. The result is a brilliant finish in a machine made glass with the features and elegance of mouth-blown stemware.
Colored Stemless Wine Glass Collection
For the wine lovers, we offer the Stolzle colored stemless wine glass collection including red, blue and olive green options featuring a dozen of our best-selling deeply engraved monogram designs. Add color and whimsy to your dining table or cocktail party with the addition of these surprising beauties. The colored wine glasses offer any hostess the chance to create a themed setting for her dinner or cocktail party. The ruby red stemless wine glass with our popular heart and arrow design is also a unique Valentine's Day gift for lovers. The olive green wine glass is a fresh springlike addition to the table and great for Christmas or St. Patrick's Day celebrations. And of course the gorgeous cobalt blue wine glass is a classic for any setting.
Nick and Nora Martini Cocktail Glass
Your home bar or dinner table wouldn't be complete without the Nick and Nora glass. It has a smaller scale design and more of a rounded shape than the traditional martini glass you typically see today. The Nick and Nora glass is true to the era in which it comes from, inspired by the glasses used in The Thin Man series of films from the 1930's and 1940. Any party, special occasion or even everyday moments will be that much more special with the vintage or retro look of this gorgeous martini or cosmo cocktail glass. Choose from a variety of custom personalizations including a traditional monogram, gorgeous family crest style designs and even select the option to have us carve your company logo or artwork into the glass for you.
Rocks and Double Old Fashioned Barware
If you're seeking an heirloom quality, yet durable gift for the whiskey lover, bourbon connoisseur or scotch aficionado, look no further than our German whiskey glasses. Crystal Imagery has dozens of monogram options and we can even put your own company logo or image on any of our products. Crystal Imagery will deeply etch your company logo or one of our proprietary custom monograms into any one of these new rocks and DOF glasses. The Stolzle New York Barware collection is offered alongside the uniquely shaped Experience DOF and Weinland Rocks glass. We've also added the Glencairn Canadian Whisky glass to provide a larger bowl on the traditional whiskey or scotch snifter.
Crystal Imagery prides ourselves in creating custom engraved barware of heirloom quality. Look no further for unique cocktail glasses for him or her as well as your company promotional giftware needs.
Cheers,
Sherri