Sip in Style with These Custom Whiskey Glasses From Crystal Imagery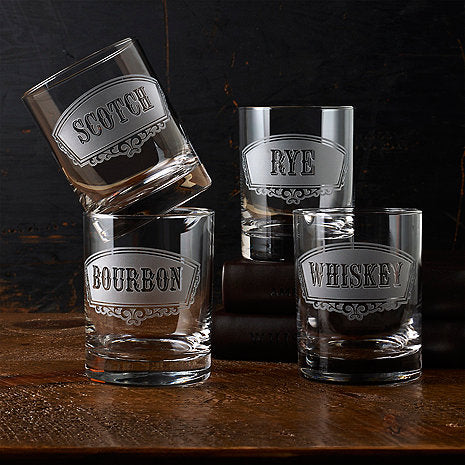 If you love whiskey, then you should indulge yourself every time you take a sip with personalized whiskey glasses. Whether it's a rocks glass, a bar glass, or even a flask for storing your favorite whiskey, Crystal Imagery's deep carved glasses are perfect for adding to your home bar to add a touch of luxury. Here are some of the options available to help you feel like a high roller when you drink your whiskey.
A Whiskey Label Engraved Bar Glass
Being a whiskey lover, you've probably wondered what it would be like to have your own distillery or private reserve. How would you craft the whiskey? Would it be rye? Bourbon? What barrels would you make? With these custom whiskey glasses, deeply engraved with a fictional whiskey label of your making, you can feel like you do own a distillery. The label design includes "premium barrel aged" and "distilled and bottled by" with your last name, hometown, and state, giving the glass an official look that's classy and just plain cool. The label design is deeply carved out of the glass, giving it a 3D effect and leaving only the words and personalization left, raised in relief from the glass's surface.
An Engraved Personalized Glencairn Whisky Glass
Are you more a scotch drinker, or just like to feel like you are sipping whisky in Scotland? These official Glencairn glasses are derived from the glasses used in Scottish whisky labs and distilleries. The official Glencairn glass is perfect for enjoying whiskey, scotch, and more, and it's often called the "official whiskey glass" by experts. Unlike a typical rocks glass, a Glencairn glass lets the drinker appreciate the liquor's subtle nuances. With Crystal Imagery, you can have a personalized Glencairn glass with a variety of customizations, such as an initial in front of a shield with your full last name underneath.
A Pair of Waterford Rocks Glasses for the Ultimate Luxury
If you want the ultimate in luxury, choose premium Waterford Crystal engraved glasses. When it comes time to enjoy top-shelf liquor in the comfort of your home, Waterford Crystal glasses are the best way to do it. Having an initial monogrammed on the front makes the glasses even more special. The glasses use the Lismore Essence pattern, which offers a more slender, modern profile than the classic Lismore while featuring the signature diamond and wedge cuts. They have a lighter wall and more slender profile, ideal for unlocking the flavor and aroma of fine scotch, whiskey, bourbon, or mixed drinks.
A Monogram Full Emerald Design Flask
When you need something high-class to store your whiskey in, choose a glass flip-top hip flask from Crystal Imagery. It can be deeply engraved with a variety of logos or monograms for personalization. With a leak-proof rubber seal, it is perfect for storing whiskey and other liquors.
Get custom deeply engraved glasses and more for the whiskey lover in your life at crystalimagery.com
Cheers,
Sherri