How to Store Your Whiskey Correctly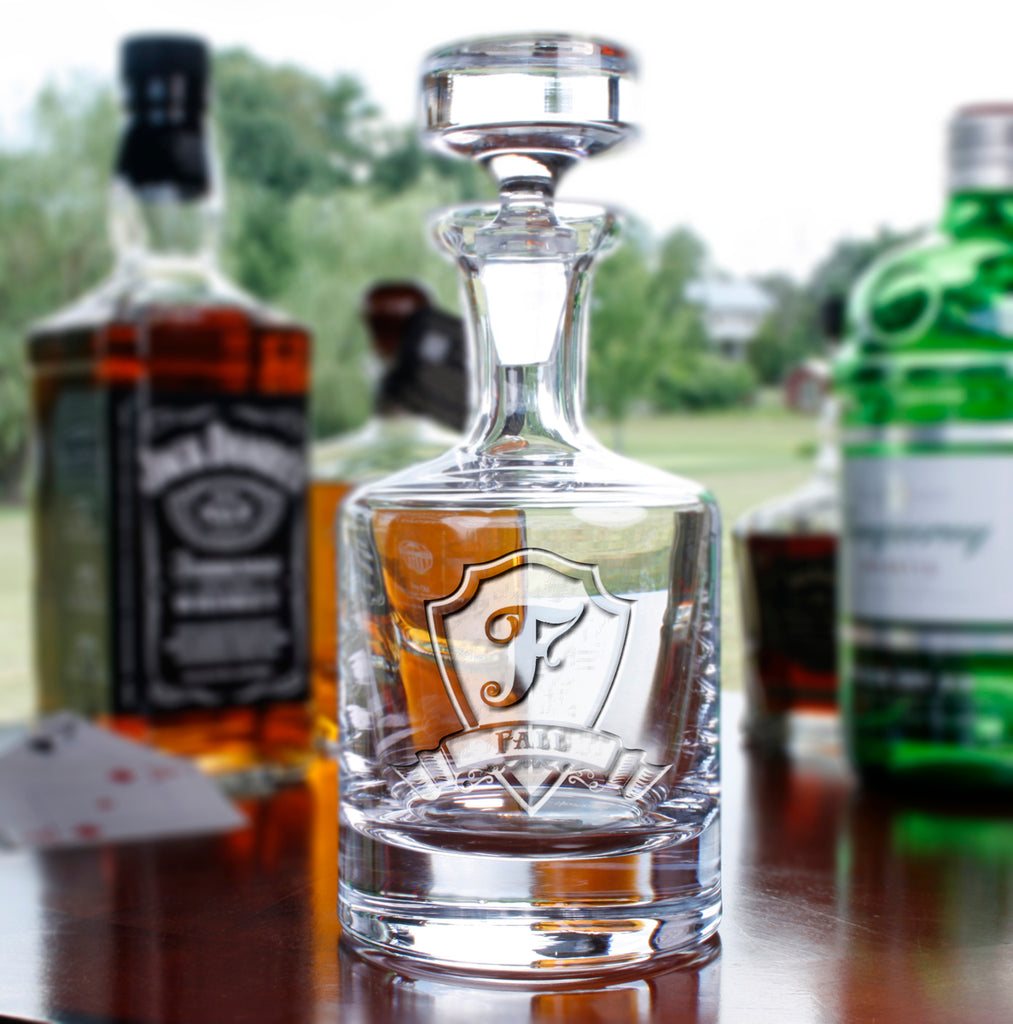 Decanters, Bottles, and Temperature: What You Need to Know About Storing Whiskey
How you store your whiskey, depending on whether the bottle is open or not, is crucial. Improper storage will quickly dull the flavor. If you want to keep your whiskey fresh and tasting its best in your custom whiskey glasses, following these steps is critical.
Control the Temperature
Changes in temperature can affect the quality of your whiskey. If it gets too warm, the bottle can expand, letting in oxygen. Oxidization degrades the taste. You also don't want to keep the whiskey too cold, as it is less flavorful and aromatic. Because of this, you want to keep your whiskey between 59 and 68 degrees. When you put the whiskey in your personalized engraved glasses, feel free to use ice or whiskey cubes, but until then, keep the whiskey at a stable temperature. 
Stay Away from Sunlight
Direct light, especially sunlight, can cause chemical reactions in the whiskey. This both discolors the whiskey and affects flavor. Keep your whiskey in a cabinet, cupboard, wine cellar, or similar area if you do not display it. However, note that displaying it can not only cause the label to fade but also damage the whiskey with sunlight.
Keep the Bottle Upright
If you keep the bottle sideways, the whiskey will have contact with the cork. This can deteriorate the cork, flavoring the whiskey while allowing oxygen into the bottle. Always keep the bottle upright, instead of in a drawer. Wine can be stored horizontally, but the higher-proof spirits like whiskey can disintegrate the cork.
Wet the Cork
However, you do want to keep the cork moist. Flip the bottle over occasionally to wet the cork, for just a few seconds every month. A dry cork will crumble and disintegrate when you open the bottle and helps prevent oxidation.
Using a Decanter
Nothing is classier than pouring your favorite whiskey from a decanter into glasses etched with your monogram. Decanters for whiskey, unlike wine, serve no purpose in changing the flavor. They are solely for elegance and displaying whiskey. However, if the decanter is not well-sealed, it could cause oxidation. Generally, once you open the bottle, whether you keep the whiskey in the bottle or a decanter, you need to keep it as well-sealed as possible. This will help keep it fresh. Avoid leaded crystal decanters, as the lead can leach into the whiskey. Stick to regular crystal instead.
Drink Up
Whether you keep the whiskey in an open bottle or decanter, drink it within two months. Make sure you don't have too many open bottles, or your whiskey could lose flavor. A mostly full bottle can take up to a year to lose flavor, but with only a third left, you have a month at best. Plus, drinking up means more space for another bottle.
About Crystal Imagery
Eric Schuchart started making custom engraved glasses as a hobby in 2000. He was only making deeply engraved gifts for his friends and family, but all the gift receivers loved his work. Crystal Imagery was incorporated in 2013, with Sherri Blum joining as a co-founder and business partner. The company grew by leaps and bounds, starting in a modest garage and expanding to a full 10,000 square-foot facility in just three years. Crystal Imagery uses a special deep carving technique, which creates a 3D relief in the glass that you can feel. It is a vastly superior technique compared to traditional rotary or laser etching. The method adds depth and shadow to Crystal Imagery's glass products, including personalized whiskey glasses, shot glasses, decanters, flasks, champagne flutes, and more. With Crystal Imagery, you can give a unique personalized gift or add elegance to your home bar.
When it's time to stop storing and start drinking, shop custom whiskey glasses at crystalimagery.com