Add Elegance to Your Home Bar with Personalized Stolzle Crystal Barware From Crystal Imagery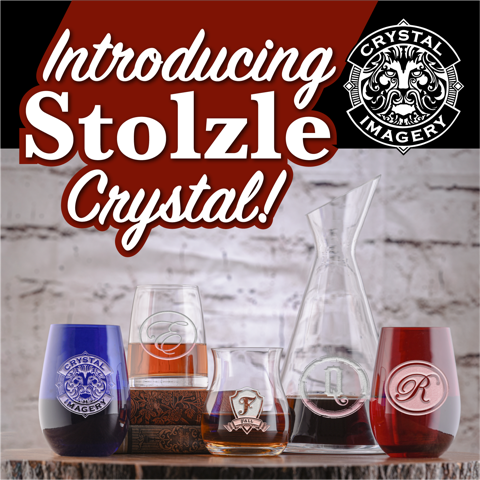 If you are looking for a way to add old-world quality and craftsmanship with modern designs to your home bar, consider custom engraved glasses, decanters, and tumblers made with lead-free Stolzle crystalline glass from Crystal Imagery. Stolzle Lausitz GmbH counts itself among the few glass manufacturers that have mastered the art of the manufacturing process that produces a one-piece stem and bowl. This serves to get rid of unsightly joint lines as well as making the glass stronger. Here are some of the barware pieces that Crystal Imagery offers.
Rocks DOF Glasses
With two different styles of rocks glasses available, you have options depending on the look you are going for. You can have the classic rocks glass with anything from a monogram to a custom logo deeply engraved on it. These personalized whiskey glasses offer a jaw-dropping deep engraving, with shadow and depth that traditional rotary and laser etching techniques can't achieve. You can also get a more modern, sleek silhouette rocks glass, which tapers upward. 
Canadian Whiskey Glasses
The Canadian Whiskey Glass is similar to a Glencairn glass, made specifically for drinking whiskey. While the Glencairn glass is typically used more for scotch, these are meant for Canadian whiskey. The design makes it comfortable in the hand, while the wide crystal bowl helps you appreciate the whiskey's color. The tapering mouth helps capture and concentrate the aroma while enhancing taste. These custom whiskey glasses are available with many personalization options, such as a family tree icon and your last name.
Nick and Nora Martini Glasses
Nick and Nora martini glasses were inspired by the glasses used in The Thin Man films from the 1930s and 1940s and are smaller in scale, with rounded lines compared to other glasses. They are a product of their era, and personalized Nick and Nora glasses from Crystal Imagery will give your home bar a retro, vintage elegance. It's perfect for classic cocktails such as sidecars, Manhattans, gin rickeys, and martinis.
Slant Wine Carafe Decanter
For a sleek, modern wine carafe decanter, choose this elegant, lead-free decanter. With higher clarity and brilliance from the Stolzle glass, you will clearly see the wine in the decanter. It will be a statement piece in your home bar, especially with a personalization from Crystal Imagery.
Stemless Wine Tumbler
Part of the Elements collection, the Stolze Stemless Wine Tumbler is offered in a few colors, including cobalt blue, red, and olive green. The glass's organic color sets it apart from other wine glasses, giving a splash of color and a bold look to dinner tables and home bars.
Add elegance to your bar with personalized whiskey glasses and barware made with Stolzle glass at crystalimagery.com