A Personalized Whiskey Decanter and Other Classy Glassware for Your Home Bar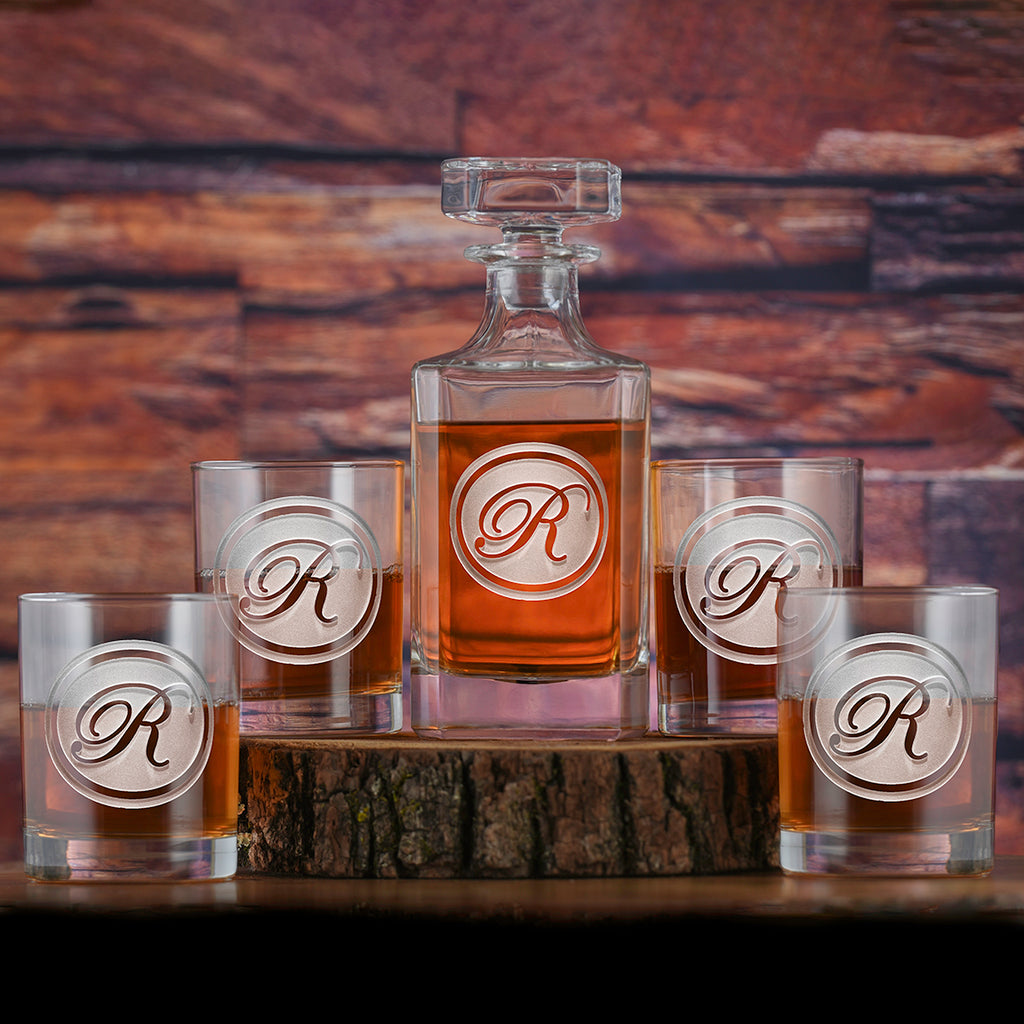 Are you looking for a way to add some elegance to your home bar through classy glassware? There are plenty of pieces of glassware that will add sophistication to your home bar. A personalized whiskey decanter, luxe Nick and Nora glasses that add a classic touch, and customized beer glasses all add elegance. Here are some options.
A Personalized Whiskey Decanter to Hold Your Whiskey
Anyone can have a bottle of whiskey sitting out. Specific labels can make for a prestigious shelf. A personalized whiskey decanter can show off the whiskey better while adding elegance. A whiskey decanter is purely decorative. Unlike wine, whiskey does not benefit from giving it time to breathe. Instead, a personalized whiskey decanter with your monogram or initials gives you an ornate way to store your whiskey.
Custom Whiskey Glasses for Cocktails
You need something to pour the whiskey from your personalized whiskey decanter into. Whiskey glasses with a custom image or fictional whiskey label with your name will impress any guests. It's also great for having your favorite whiskey after a long week. Personalized whiskey glasses will make any whiskey feel like it came from a higher shelf. They are also perfect for a cocktail. An old fashioned, gold rush, or Manhattan all go well in a classic rocks glass. The rocks glass is one of the most versatile glasses, making it a mainstay of your collection. 
Glencairn Glasses for Sipping
A Glencairn glass is better for sipping whiskey. If you want to taste the whiskey, pour it in a Glencairn glass with just a couple of drops of water. The shape of the Glencairn glass focuses the aroma. This helps you taste the whiskey and get its full flavor. It's an overall better experience if you are drinking whiskey mostly neat. Glencairn glasses are also great for showing off whiskey to friends. It can help them get the full whiskey experience.
Customized Beer Glasses for After Work Cold Ones
Just because you want a beer after work doesn't mean you can't do it with some elegance. Customized beer glasses can make the mundane and ordinary feel special. Good beer deserves customized beer glasses. Craft beer is given the attention it deserves. Plus, it looks classy when you sip cold beer from customized beer glasses that have a unique image carved into them. They are great for both a beer after work and when you want to impress your guests on the weekend.
Personalized Flasks for Bringing Liquor On the Go
Bring the party with you in a tasteful way with a personalized flask. It's a great way to transport your favorite liquor stylishly. Whether you are going to a gathering of friends or a tailgating party, a monogrammed flask is perfect for adding elegance. If you are going to someone's home, don't be afraid to bring matching customized whiskey glasses. You can use your liquor to create delightful cocktails using your favorite ingredients. Or make the cocktail at home first and bring it in the flask.
Shot Glasses with a Custom Image
When you think of parties, you probably think of shot glasses. These may not seem luxurious, but it's possible to create glamorous shot glasses. Shot glasses with a custom logo or a monogram are perfect for taking a shot of your favorite spirit. You can also measure out liquor for a cocktail. It's also the perfect companion for dropping into your customized beer glasses for drinks such as a sake bomb. Look for custom shot glasses that have a deep engraving. This will give it a raised engraving you can feel while adding shadow to the glass.
Champagne Flutes with Your Initials for Elegant Toasts
It's said that when Dom Perignon first tasted sparkling champagne, he said, "Come quickly, I am tasting the stars!" When it comes time to make a toast at a dinner, you want to be as elegant as possible. One way to achieve this is with champagne glasses with your initials engraved in them. You can toast to celebrate a graduation, promotion, or simply friends spending time with you. It's an exquisite way to enjoy tasting the stars.
Crystal Highball Glasses for a Refreshing Beverage
The classic highball is nothing special. It's usually whiskey and ginger ale in a highball glass. Make the Japanese highball in a personalized highball glass, and you get art. It takes attention to detail and focus. You will need to carve blocks of ice, stir in the highball glass until frost appears, and then pour out excess water. Add the whiskey, stir exactly 13 times, add more ice, and top it off with soda water.
Nick and Nora Glasses for Old-School Luxury
Nick and Nora glasses can give you an effortless old-school cool look. The glasses were popularized in the 1934 comedy-mystery film The Thin Man. Characters Nick and Nora Charles were constantly drinking out of glass that was a cross between a coupe and martini glass. It's easier to sip from than a traditional martini glass. The Nick and Nora glass is perfect for cocktails such as sidecars, Manhattans, gin rickeys, and martinis. Add a custom engraving you and will have truly luxurious glassware.
Stemless and Stemmed Custom Wine Glasses for All Occasions
It doesn't matter if you are drinking a favorite wine or are bringing one up from the cellar that you've been keeping for a special occasion. Break out the custom wine glasses. You can find both stemmed and stemless personalized wine glasses to upgrade your experience. Stemmed glasses are typically used for white wine. Holding the stem keeps your body heat away from the white wine, which is better cold. A stemless glass is best for red wine, which can be served at room temperature. Your body heat won't negatively affect the red wine.
About Crystal Imagery
Crystal Imagery had humble beginnings as a hobby for Eric Schuchart. He started a fun side project in 2001, making custom engraved glasses as gifts for friends and family. The customized glassware was an instant hit. Schuchart kept the hobby until 2013, when he was joined by Sherri Blum, a noted interior designer to celebrities, and the two created Crystal Imagery. Each unique engraving of Crystal Imagery glassware is created using a deep-carving technique that creates depth you can feel, adding a shadow to the glass. Laser and rotary surface etchings can't match the results. Crystal Imagery offers personalized whiskey glasses, Glencairn glasses, flasks, Nick and Nora glasses, champagne flutes, customized beer glasses, and more glassware. Add the touch of opulence your home bar has been missing with personalized glassware deeply engraved by Crystal Imagery.
Get deeply engraved glassware from Crystal Imagery at
crystalimagery.com