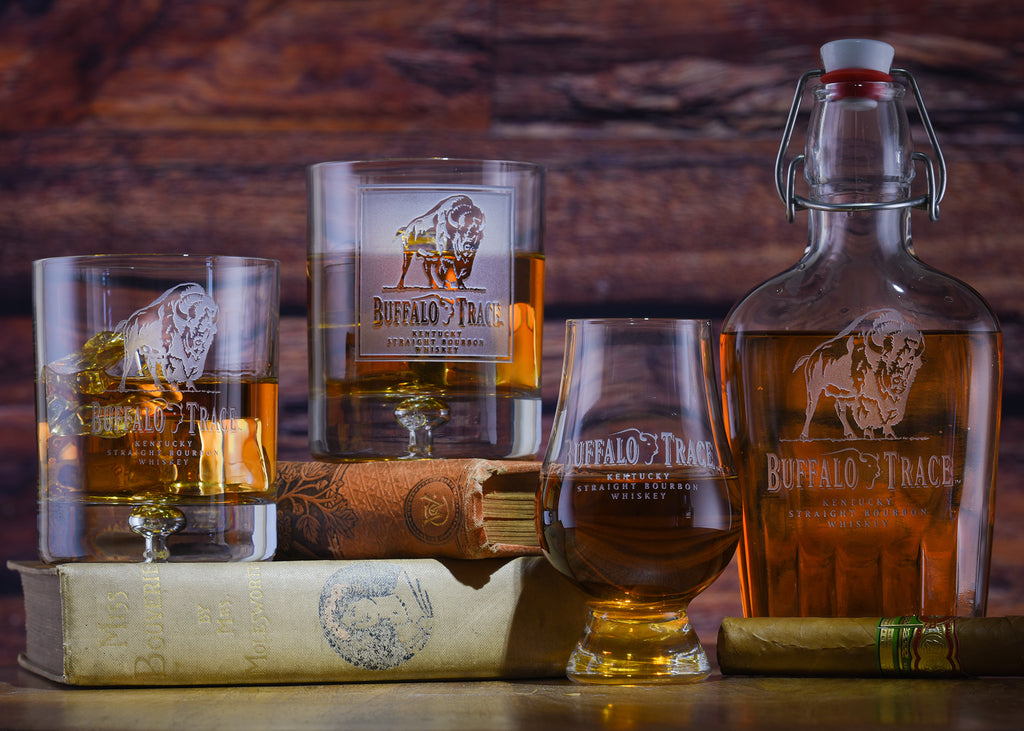 Have you only ever had whiskey neat or in a cocktail? Have purists told you the only way to go is to pour your whiskey in custom whiskey glasses, take a sip, and be overpowered if you aren't used to whiskey? Your custom whiskey glasses deserve better than that. There are more ways to drink whiskey than you might assume, helping you enjoy and savor the flavors. Here are some of the ways to drink whiskey. Whether you're experienced or still getting used to whiskey, maybe you'll find a new way to enjoy it.
Neat or Straight
The most obvious way to enjoy whiskey is neat or straight. It's just the whiskey and your custom engraved glasses. This can be overpowering if you aren't used to drinking alcohol but is also the best way to taste the whiskey. This is why it is the favorite method of many whiskey connoisseurs, as it showcases flavor notes. Generally, you want to use a Glencairn glass if you are drinking neat, as they are designed to bring the richness of both the aromas and flavors to the front, letting you enjoy the nuances of the whiskey. It's also good to add a drop of water, as it helps to open up the flavor. If you don't have a Glencairn glass, a rocks glass will do fine.
On the Rocks
Next is on the rocks. This simply means the whiskey is served over ice. Some spirits benefit from this, as it can dilute the alcohol and take away from the burn. It also helps chill the liquid. However, if you use regular ice cubes, it can also quickly degrade the flavors due to dilution. If you want cold whiskey, use a large block or sphere of ice, which melts much slower but still chills the whiskey. Use a rocks glass for this, as the name suggests. Finally, if you like your whiskey cold but not diluted, use whiskey stones.
With a Bit of Water
A few drops of water can help open up the whiskey, releasing some of the flavor notes. Too much water, however, and you will have the problem of diluting the whiskey too much and losing flavor. A few drops of water can also help tame the alcohol burn. Both Glencairn and rocks glasses are ideal for this method of drinking.
Warmed Whiskey
There are a few drinks, such as the Hot Toddy, which feature warmed whiskey. The main problem with warmed whiskey is flavor degradation, as tasting notes are best at room temperature. However, with lemon, honey, cinnamon, and other spices, you can have a warming cocktail that is still delicious.
Mixing Whiskey and Tea
In many parts of Asia, mixing whiskey with a tea such as Darjeeling quite common. It can balance the dry fruitiness of the whiskey, adding aromatics and softening flavors.
The Highball
A highball is essentially whiskey and a fizzy drink, often soda water. Soda water and whiskey is highly popular in Japan, while Coke or lemonade are often used in America.
Cocktails
Finally, mixing a cocktail in your glasses etched with a custom image is hard to beat. Whether it's an Old Fashioned, Manhattan, Gold Rush, or a Mint Julep, choose a good whiskey and have at least two parts whiskey. You aren't trying to hide the whiskey in a cocktail but present it in a new way and complement the flavors.
About Crystal Imagery
In 2000, Eric Schuchart started making custom engraved glasses as a fun hobby to create gifts for friends and family. They loved the results. He was joined in 2013 by Sherri Blum, a noted interior designer to the stars. Together, they created Crystal Imagery. The unique 3D effect Crystal Imagery creates on glass is thanks to a deep-carving technique, giving the glass shadow and depth that you can feel. Typical laser and rotary surface etchings aren't able to match the technique. Crystal Imagery offers personalized whiskey glasses, Glencairn glasses, highball glasses, champagne flutes, Nick and Nora glasses, decanters, and more glassware. Add a touch of elegance to your home bar with personalized glassware from Crystal Imagery.
Try different ways of drinking whiskey with custom glassware from Crystal Imagery at crystalimagery.com
Cheers,
Sherri