5 Personalized Wedding Party Glassware Gifts Groomsmen and Bridesmaids Will Love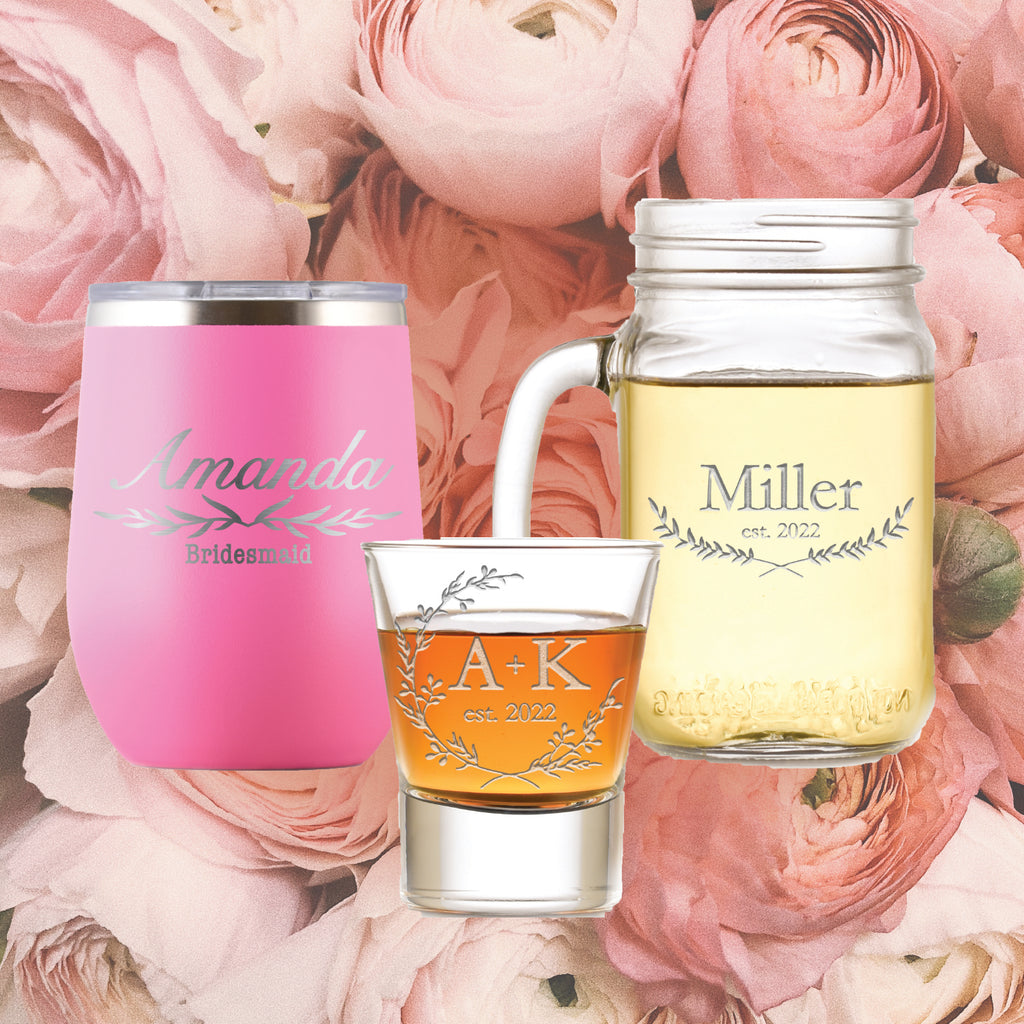 If you are looking for the perfect wedding party gifts for your groomsmen and bridesmaids, try custom engraved glasses. There are many types to choose from, including whiskey glasses, champagne glasses, wine glasses, and more. The key is looking for high-quality glasses. Here are some options and what you should look for when it comes to engraving.
Custom Champagne Glasses
To celebrate the wedding, an amazing gift for your wedding party could be champagne glasses etched with either their names or a commemoration of your wedding date. Custom champagne flutes are the perfect way to preserve the memory of a special day, surrounded by your friends and loved ones. It's also perfect for wedding toasts, which bridesmaids and groomsmen will inevitably make.
Personalized Whiskey Glasses
Are you more whiskey drinkers than champagne? Give your wedding party personalized whiskey glasses. You have a few options, depending on your favorite type of whiskey. If you prefer whiskey on the rocks or a classic cocktail like an old fashioned, go with a rocks glass. If you prefer sipping whiskey or have a favorite bottle of scotch, personalized Glencairn glasses are the way to go. Find a company that uses deep etching instead of rotary or laser etching. This will give an engraving you can feel, and your wedding party members can feel will love using the glasses for years to come.
Engraved Wine Glasses
Whether you are red wine drinkers or prefer white wine, you can find wine glasses suited to your favorite type of wine. Engraved stemless glasses can commemorate your special day and the people who were there to celebrate it if you like red wine, while stemmed glasses will show your engraved names while holding white wine.
Personalized Whiskey Decanter and Flasks
A personalized whiskey decanter for your tables and matching crystal flasks as gifts for your wedding party create a cohesive look. To make the gift extra special, fill each wedding party member's flask with their favorite whiskey. Crystal flasks help showcase the lovely amber color of their favorite whiskey. Every time they take a sip, they will remember the fun memories of your wedding day or bachelor and bachelorette parties.
Custom Shot Glasses
What is a bachelor or bachelorette party without a few shots? Custom engraved shot glasses are a fantastic way to have fun with your wedding party. It'll give your wedding party an excellent way to remember the wedding, especially with your names etched in the shot glasses. These party favors can also be used for measuring out a cocktail but should be used at the wedding to down your favorite spirits.
About Crystal Imagery
Crystal Imagery had humble beginnings as a hobby for Eric Schuchart. He started a fun side project in 2001, making custom engraved glasses as gifts for friends and family. The customized glassware was an instant hit. Schuchart kept the hobby until 2013, when he was joined by Sherri Blum, a noted interior designer to celebrities, and the two created Crystal Imagery. Each unique engraving of Crystal Imagery glassware is created using a deep-carving technique that creates depth you can feel, adding a shadow to the glass. Laser and rotary surface etchings can't match the results. Crystal Imagery offers personalized whiskey glasses, Glencairn glasses, flasks, Nick and Nora glasses, champagne flutes, customized beer glasses, and more glassware. Add the touch of opulence your home bar has been missing with personalized glassware deeply engraved by Crystal Imagery.
Get personalized wedding party glassware gifts for your groomsmen and bridesmaids from crystalimagery.com