4 Items From Crystal Imagery You Need for an Outdoor Whiskey Party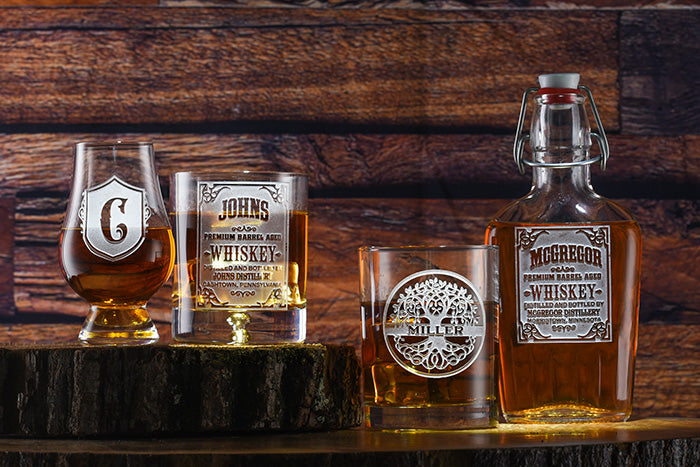 Summer is here, and you might be planning an outdoor whiskey tasting party. Bringing the party to your backyard doesn't mean you have to lose the elegance of a whiskey tasting. Instead, bring it with you in the form of custom engraved glasses and other glassware from Crystal Imagery. From rocks glasses with a custom logo or monogram to a decanter to hold your favorite whiskey, these are the items you'll be sure to reach for when you want to impress your guests.
Personalized Whiskey Glasses
First and foremost, you will need personalized whiskey glasses to drink from. When you want to make a good impression on guests, not just any glass will do, especially if you treat them to top-shelf whiskey. Personalized whiskey glasses with a custom logo, monogram, or fictional distillery bearing your name can help make even everyday whiskeys feel like top-shelf drinks and keep a sense of elegance for your outdoor whiskey tasting experience. When it's all said and done, high-quality personalized outdoor whiskey glasses could be the most essential part of the tasting aside from the whiskey itself.
Custom Glencairn Glasses for Scotch
Add another level of sophistication to your outdoor party with custom Glencairn glasses. These are perfect for savoring the taste of scotch since the bowl at the bottom of the glass tapers up to the lip. It enhances the scotch drinking experience compared to the typical rocks glass because it helps to focus on the drink's aroma. Glencairn glasses are used by nearly every whisky company in Scotland and Ireland and are typically used to taste-test in distilleries. Having both DOF rocks glasses and Glencairn glasses available gives your guests the ability to customize their whiskey tasting experience.
Decanters to Hold the Whiskey
Equally as important as your custom whiskey glasses is what you use to pour the whiskey into said glasses. While showing off higher-end bottles such as W.L. Weller has its merits, an engraved decanter adds a personal touch while showing off the color of the whiskey. These are perfect for a custom logo or monogram. Whiskey, unlike wine, does not need to be exposed to air to bring out flavors. The decanter merely serves to inject a new level of classiness into your whiskey tasting environment.
A Crystal Ice Bucket to Keep Things Cool
If you are going to have an outdoor whiskey tasting in your backyard during the summer, you will likely want to have a crystal ice bucket handy. A Waterford crystal bucket with your custom design or monogrammed initials in the traditional Lismore diamond and wedge pattern refracts the sunlight, providing a spectacular visual element to the tasting. Silver tongs add to the elegance, and the ice will help bring out flavors and mellow the whiskey as it melts and help you beat the summer heat.
Bring elegance outdoors this summer with Crystal Imagery's full selection of custom engraved glasses at crystalimagery.com