Crystal Imagery Makes Glassware for the Historic Lesley Manor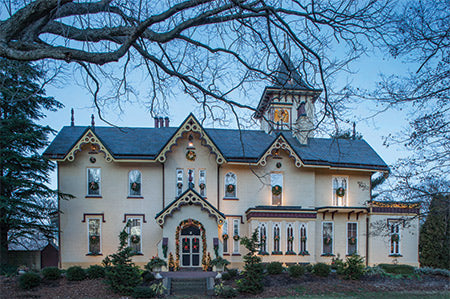 Lesley Manor, also known as the Deemer House, Travers House, and Lesley-Travers Mansion, is a historic home located at New Castle, Delaware. It was designed by noted Baltimore architects Thomas and James Dixon and built in 1855. The Lesley Manor was built in 1855 for Dr. Allen Voorhees Lesley and finished one year later. The house is on the national register of historic houses and is named for Dr. Lesley. It has 38 rooms and encompasses 13,000 square feet. It was the first house in New Castle to have gas chandeliers and the first to be electrified. The house is open to the public the 2nd Saturday of December each year as part of New Castle's  "Spirit of Christmas" event. It is lived in and cared for by the Wright family who often open the house for private events such as political fundraisers and other town happenings.
Do you have a need for custom barware? We can put practically any image on glassware for you! Click here to see your logo on barware!  
Cheers,
Sherri and Eric