4 Whiskeys and the Best Cheeses for Pairing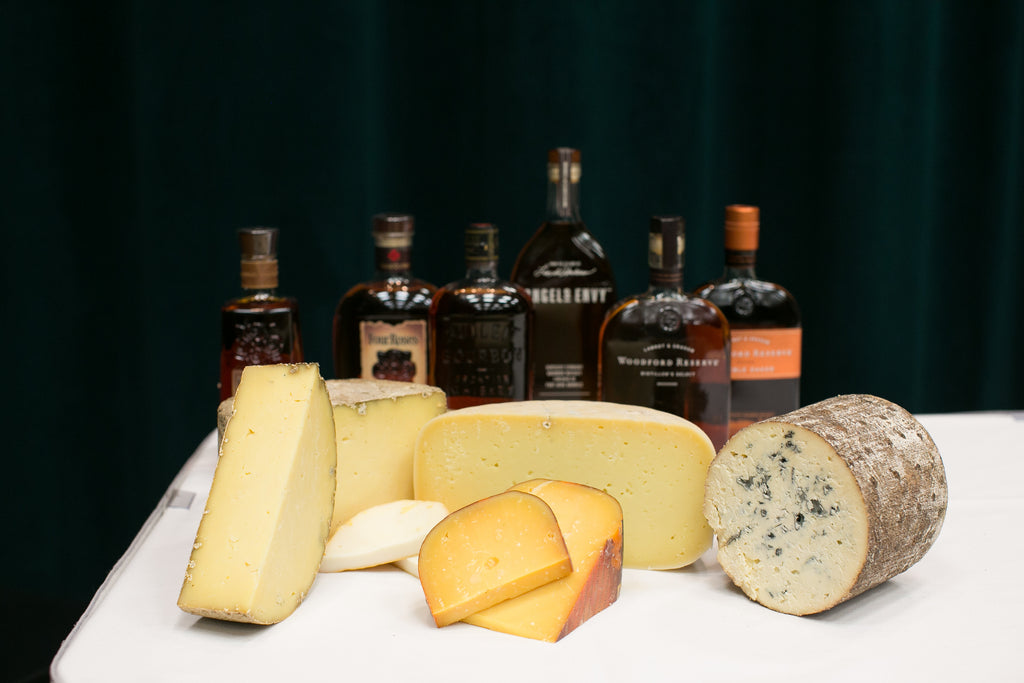 Charcuterie boards are all the rage these days; a significant part of these is cheese. Whether you want a snack with your whiskey or have friends over for hors d'oeuvres and want a whiskey to pair with the cheese on offer, certain cheeses work better with certain whiskies. Knowing which cheeses to set out when you want to pour Kilbeggan or Woodford Reserve into your custom whiskey glasses can make the difference between flavors that complement each other and a discordant flavor pairing. Here's what you need to know about pairing cheeses and whiskeys.
Why Pair Cheese with Alcohol?
One of the main reasons cheese pairs so well with alcohol is the fat in the cheese. It coats your palate, helping you feel the flavors of the alcohol without any of the bite. This is especially true of beverages with higher alcohol content. Meanwhile, the alcohol also cuts the fat on the cheese, letting you get a better taste of the cheese. Altogether, this means either the flavors are reflected in both, or the main characteristic of the cheese or alcohol are intensified. If you're not sure whiskies go well with cheese, consider that Macallan collaborated with Murray's Cheese for four matches.
Scotch Pairings
Chances are good that if you take a sip of the Scotch in your personalized whiskey decanter, it will be smoky compared to other whiskies. Smokier Scotches go well with blue cheeses, such as a Stilton or Roquefort. The minerality of the blue cheese balances the smokiness of the Scotch. If you want to match flavors instead of balancing, go for harder, nuttier cheeses, such as alpine-style cheese. Try the Macallan 12 Years Old Double Cask with a young Pecorino Romano. The sweet, citrusy flavors of the Scotch play well with the salty, sharp, aromatic flavors of the sheep's cheese.
Best Cheeses for Bourbon
Bourbons are often sweet and smoky but can also be fruity, spicy, or salty. You want a cheese to cut through these flavors, making one shine or complementing the entire flavor profile. You will want a smooth, creamy, nutty cheese for this. A Cabot Clothbound Cheddar is sharp, bright, and grassy, pairing its caramelized nutty flavor with the sweetness of your bourbon. Another choice is Gouda, which pairs well with Jim Beam, balancing out the flavors. A difficult one to pair is Woodford Reserve, which boasts 200 flavor notes. Enhance the flavors with Gruyere, a creamy, nutty cheese with hints of salt to cut the citrus of the Woodford and bring out the spicy notes. Older Gruyere will bring out earthy notes.
What Goes with Irish Whiskey?
Thanks to its unique distillation process, Irish whiskey is often smoother than other whiskies, offering floral, fruity, and cereal-tasting notes. Older Irish whiskey gains sweeter flavors, like oak and caramel. You may want to try goat's cheese with an Irish whiskey, because of the lighter character and density of the whiskey combined with the salty, bolder cheese. A rich, soft bloomy rind cheese like Brie or Camembert goes well with the vanilla and citrus notes. Another interesting pairing is Kilbeggan Single Pot Still with Roquefort. The blue cheese is sweet, playing with the floral notes of the whiskey, while the smoky and salty notes cut the acidity of the whiskey's citrus flavors.
About Crystal Imagery
In 2001, Eric Schuchart started his hobby of making personalized engraved glasses. What he didn't know, as he gave them as gifts to friends and family, was that his life would change. The glassware earned rave reviews, so a dozen years later, he made his hobby his job, starting Crystal Imagery. Sherri Blum, a noted interior designer for celebrities, joined him. Now, Crystal Imagery is known for using a deep etching technique, producing a shadow and depth in the glass that competitors simply can't match. Crystal Imagery offers personalized whiskey glasses, customized beer glasses, champagne flutes, wine glasses, crystal ice buckets, highball glasses, and several other glassware options. When it's time to elevate your home bar, choose Crystal Imagery.
Find the perfect whiskey glasses to complement your charcuterie board at crystalimagery.com